Aleksandar Mikic, the legume (re)searcher A sad announcement: on the morning of September 6th 2021, our beloved Slavic friend and colleague Aleksandar Mikič passed away.
Aleksandar made an outstanding contribution to the International Legume Society. He was one of the founding members of ILS, which he strongly supported in various ways during its development from the ashes of AEP – including the creation of the Society logo. He offered to host the first ILS conference in Novi Sad in 2013 and shaped nearly each aspect of it, from the conference name (2013: A Legume Odyssey) to the conference logo, bags and gadgets. Most importantly, when ILS created its magazine, Legume Perspectives, Aleksandar voluntarily acted as the Technical Editor and formatted and edited himself all the pdf files and issues of the magazine for 5 years. Also, he created the first ILS website.
Many of us had the privilege to meet him, receiving from him high motivation charged with passion for legumes and plants in general. The legume community as we know it today is open, lively, creative and with a good sense of humour. Aleksandar contributed greatly to these features with his own exceptional example, insight and human characteristics. He foresaw ILS as a key opportunity for legume research and transfer to industry, linking together the research on all legumes worldwide (grain, forage, pharmaceutical or ornamental ones; from the Old World to the Americas).
Aleksandar also valued a good team spirit. Many of us remember our debut as players of the First International Legume Football Cup that Aleksandar organized. Using his own words, an amalgam of science and fun. Aleksandar kept creating the names and logos of the participating teams for the following editions. And we are looking forward to the Fourth edition of the Cup at ILS4 in 2022 in Granada!
Aleksandar's scientific horizons were endless, including archaeology, plant biology, breeding and farmers communities. He was a prolific writer not only of scientific papers but also books like the Lexicon of Pulse Crops and Haiku Poems about legumes, and even cartoons of Asterix or other characters focusing on legume-based stories!
In the last years, Aleksandar suffered the effects of a disease that progressively erased his ability to work. Despite that, he still managed to occasionally contribute to ILS in various ways.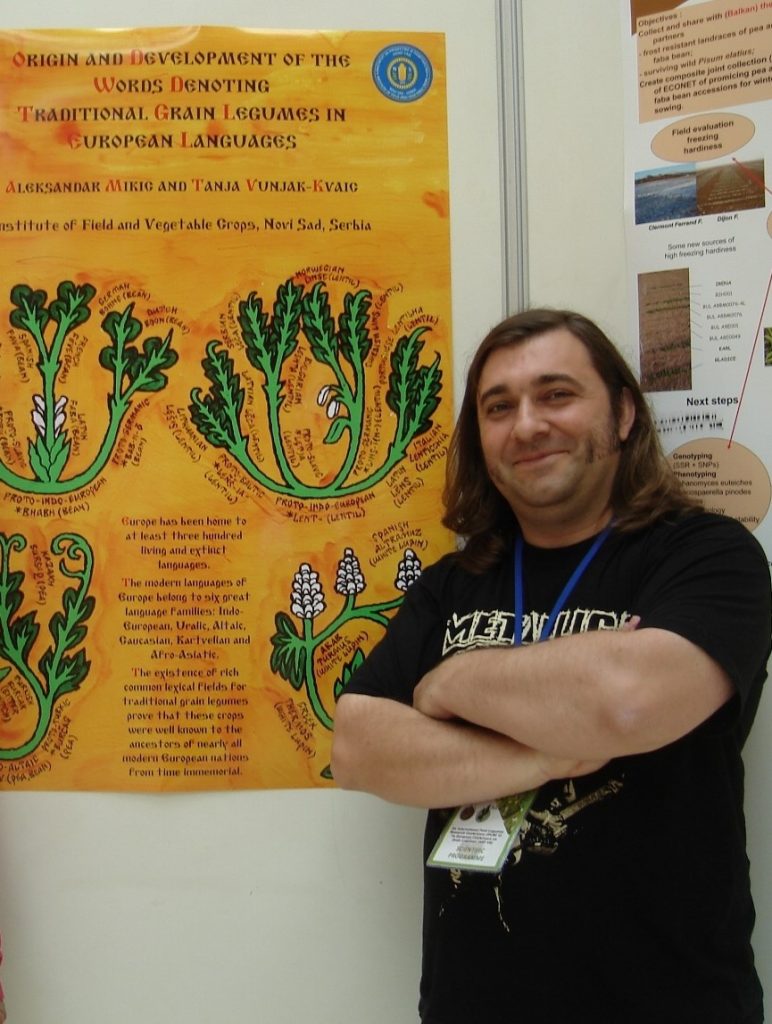 We will miss Aleksandar and his bright, innovative ideas. As a tribute to Aleksandar as a poet and a scientist, we retrieve his "Lady of Legumes" poem from Grain Legumes 54 (2009) for all of you.
Inwitári! Of Legumes Dame!
I sing to praise thy noble name.
Slender thou art, a stem of vetch;
Firmly thy grace my heart did catch.
The steps of thine are gentle and light,
Leaving a trace of clover white.
The hue of thy hair is gold pure
Like a grain of soybean mature.
The lips like thine none's ever seen,
Purple as pods of lablab bean.
Stars in thy eyes fall in showers,
Small and bright like lentil flowers.
Thy soul is fresh, fragrant and neat
As a garden full of pea sweet.
Like a firebird with flaming plumes
Thy beauty is, Lady of Legumes.
Aleksandar´s short bio
Aleksandar Mikić, PhD, born in Pančevo, Serbia, in 1974, worked as Research Associate and annual legume breeder at the Institute of Field and Vegetable Crops in Novi Sad, Serbia. His fields of interest encompassed conventional and molecular genetics, genetic resources, breeding, agronomy, agroecology, and crop history of annual legumes. Dr. Mikić co-authored more than 350 journal papers, about 120 international conference papers, over 10 book chapters, and more than 30 legume cultivars. He was also one of the founding members of the International Legume Society (2012), among the creators of the UN FAO 10-Year Research Strategy For Pulse Crops (2016) and a member of the Editorial Board of the journal Genetic Resources and Crop Evolution (since 2018).

He left his wife Sanya and daugther Sonja and son Mihailo